Giving Opportunity
Xylem Watermark & Planet Water Holiday Giving Campaign - Saahji Pumps
Xylem's Saajhi pump: Defining rural innovation
About this Giving Opportunity
This Holiday Season, help a Smallholder Farmer in rural Cambodia rise from poverty with an irrigation pump that increases food production.
$575 sponsors one Saahji pump, which helps smallholder farmers by...
Increasing their revenue by 3x or more
Reducing labor time by 25% or greater compared to traditional irrigation
Increasing water output by 15% per step compared to other step pumps
All proceeds of this holiday giving campaign will go towards the distribution of Saahji Pumps in rural Cambodia.
Learn more about the Saahji Pump here
For more information about Planet Water Foundation, visit their website here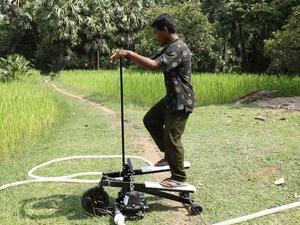 How Donations Work
Click any 'Donate Now' button and then decide your donation amount. You will then be forwarded to your payment processor of choice. Once your donation has been processed it will be sent to your charity of choice.
Need Some Help?